Nykaa vs Myntra: When it comes to online shopping, there are a lot of options and styles change quickly. Nykaa and Myntra are two well-known sites that stand out as leaders in their own fields.
Nykaa is a leader in the beauty and wellness industry. It has a huge selection of cosmetics, skincare, and hair care items that are essential for beauty lovers. On the other side of the digital aisle, Myntra is the fashion giant. Its clothes, shoes, and accessories are loved by people all over the country who are looking for new styles.
Now the question is which brand is better Nykaa or Myntra? As we all know the offerings of both brands are different one is a popular beauty store and the other is a hub for trendy fashion collections.
In this article, we will delve deeper into what these brands have to offer to their customers and will compare these brands based on the brand reputation, customer service, discounts, user experience and more.
So, without wasting much time let's get started.
About Nykaa:
Nykaa started in 2012 and quickly became the go-to place for all things beauty in India. They have a wide range of makeup, skincare, haircare, and wellness products from numerous brands. It's not just a store; it's like a beauty friend that helps you choose the right products. Nykaa is known for having genuine products and giving personalized advice to its customers. If you're into beauty or skincare and want a trusted place to shop, Nykaa is there for you.
About Myntra:
Myntra has been around since 2007 and is a big name in the world of online fashion. They have a wide variety of clothes, shoes, accessories, and even beauty products. Myntra is like a fashion hub where you can find the latest trends. It's not just about buying clothes; Myntra is about expressing your style. Over the years, Myntra has grown to be a place where you can find everything for your lifestyle. So, if you're into fashion and like staying updated with the latest styles, Myntra is the place to be.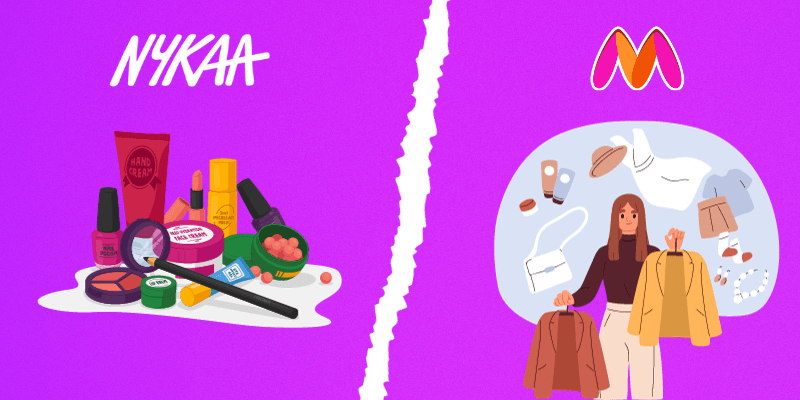 1. Nykaa vs Myntra: Product Range
Nykaa is like a treasure chest for beauty lovers. It has everything from makeup and skincare to haircare and wellness products. You can find popular brands and hidden gems. If you love makeup, there's a rainbow of lipsticks and eyeshadows waiting for you. For skincare fans, there are lotions, moisturizers, and masks. Nykaa is the go-to place for all things beauty.
Myntra is like a big stage for fashion. It offers a huge variety of clothes, shoes, accessories, and lifestyle products. No matter if you like casual wear or high-end fashion, Myntra has it all. It's like a fashion show where you can explore different styles. Myntra brings together international brands and local designers, making sure everyone can find their perfect style.
You might also like to check: Is Ajio Better Than Myntra?


2. Nykaa vs Myntra: Brand and Product Authenticity
Nykaa takes pride in offering trustworthy beauty products. The brands featured on Nykaa are carefully chosen for their quality. You'll find popular names and trusted labels in the world of beauty. Nykaa values customer satisfaction, and many shoppers vouch for the authenticity of the products they receive. Positive customer reviews often highlight the genuine quality of the brands available, establishing Nykaa as a reliable destination for authentic beauty products.
When it comes to fashion, Myntra ensures authenticity. The platform hosts a mix of well-known international brands and homegrown labels, all curated for their genuine appeal. Myntra understands the importance of delivering what they promise, and customer reviews often reflect this commitment. Shoppers on Myntra appreciate the authenticity of the products they receive, contributing to the platform's positive reputation in the fashion realm.


3. Nykaa vs Myntra Price Details and Discounts:
Nykaa: Beauty Within Budget
Nykaa's pricing strategy is designed to cater to a range of budgets. From affordable options to premium selections, Nykaa ensures that beauty is accessible to everyone. Nykaa frequently offers discounts and special deals, making it an attractive choice for savvy shoppers. Keep an eye out for regular promotions and sales events, as Nykaa consistently strives to bring beauty within reach without breaking the bank.
Myntra: Fashionably Affordable
Myntra understands the art of offering fashion that doesn't burn a hole in your pocket. The pricing on Myntra spans a spectrum, allowing fashion enthusiasts to explore within their budget. The platform is known for its frequent discounts and enticing offers, ensuring that the latest trends are always within reach. Myntra's commitment to making fashion affordable extends to loyalty programs and exclusive deals, making it a go-to for those looking to stay stylish without overspending.
Ongoing Discounts and Offers:
Both Nykaa and Myntra go the extra mile when it comes to offering additional perks to their customers. Nykaa often features ongoing discounts, especially during festive seasons, and provides exclusive offers for loyalty program members. Myntra, on the other hand, keeps the fashion flame alive with regular discounts, flash sales, and loyalty rewards, ensuring that fashionistas are continually delighted with pocket-friendly choices.
Popular Sales: Nykaa's "Pink Friday Sale" and "Nykaa Mega Republic Day Sale" are eagerly awaited, offering substantial discounts on beauty essentials. Myntra, on the other hand, boasts the iconic "End of Reason Sale (EORS)," a fashion extravaganza that attracts throngs of shoppers with its unbeatable deals.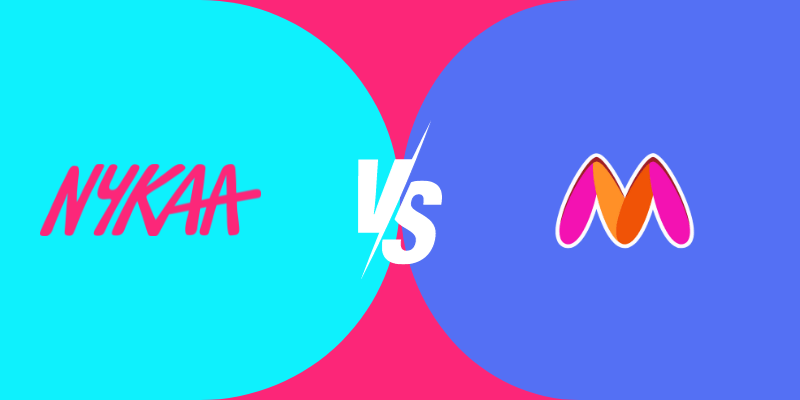 4. Nykaa vs Myntra Loyalty Programs:
Nykaa Rewards is Nykaa's way of saying "thank you" to its loyal customers. As you shop for your favorite beauty essentials, you earn points that can be redeemed for discounts on future purchases. The more you explore the beauty haven of Nykaa, the more rewards you unlock. With tiers like Gold, Platinum, and Elite, Nykaa Rewards levels up the shopping game, offering early access to sales, birthday surprises, and personalized beauty recommendations. It's not just about buying products; it's about indulging in a beauty journey that comes with perks.
Myntra Insider is Myntra's answer to rewarding its fashion-forward community. As you indulge in the latest trends, you earn Insider Points that pave the way for exciting benefits. The program offers tiers like Insider, Select, and Icon, each bringing its own set of privileges. From early access to sales and events to curated fashion content and styling tips, Myntra Insider transforms your fashion exploration into a rewarding adventure. The more you express your style, the more you get in return.
If you want to maximize your savings check out:


5. Myntra vs Nykaa User Interface and Experience:
Nykaa: Beauty in Simplicity Nykaa's user interface is a testament to simplicity and elegance. The website and app are designed with the user in mind, offering an intuitive navigation experience. The well-organized categories make it easy for shoppers to find their desired beauty products effortlessly. Nykaa's minimalist design ensures that the focus remains on the products, enhancing the overall shopping experience. The user-friendly features, such as detailed product descriptions and customer reviews, contribute to a seamless journey for beauty enthusiasts.
Myntra: Fashion at Your Fingertips Myntra's website and app interface is tailored for the fashion-forward, combining style with functionality. The platform's homepage is a vibrant showcase of the latest trends and ongoing offers. Myntra's navigation is designed to cater to diverse tastes, with easy-to-use filters allowing users to refine their search based on preferences. The overall shopping experience on Myntra is characterized by visual appeal, ensuring that users can explore and discover fashion effortlessly. With features like size guides and customer reviews, Myntra prioritizes a user-centric approach to online shopping.
Here are ratings of both brands from real users
| | | |
| --- | --- | --- |
| Factors | Nykaa | Myntra |
| Total Reviews | 3.48/5 from 11,569 Votes | 2.52/5 from 79,033 Votes |
| Customer Service | 3/5 | 3/5 |
| Product Quality | 3/5 | 3/5 |
| Delivery Timeliness | 3/5 | 3/5 |
| App & Websites | 3/5 | 3/5 |
| Reliability | 3/5 | 3/5 |
From MouthShut.com


6. Myntra vs Nykaa Customer Service:
Nykaa: Beauty with a Smile Nykaa places a high premium on customer satisfaction, evident in its comprehensive customer service. The platform's return policies are shopper-friendly, offering hassle-free returns within a specified period. Nykaa's customer support is known for its responsiveness, addressing queries and concerns promptly. Whether it's assistance with product information or guidance on the return process, Nykaa strives to make the beauty shopping experience smooth and satisfying.
Myntra: Fashionable Support Myntra, too, is committed to ensuring a positive shopping experience for its customers. The platform's return policies are designed to accommodate the dynamic nature of fashion choices, allowing users to return items conveniently. Myntra's customer support is responsive, providing assistance with order tracking, returns, and any other inquiries. Shoppers appreciate the platform's commitment to addressing concerns promptly, contributing to a sense of trust and reliability.
7. Myntra vs Nykaa Shipping and Delivery:
Nykaa: Swift Beauty at Your Doorstep Nykaa prioritizes swift shipping and delivery services, aiming to bring beauty products to customers' doorsteps within 5–7 days of order confirmation. For both new and existing customers, Nykaa offers free shipping for orders above ₹299. However, it's important to note that Nykaa charges a convenience fee of ₹29 on all orders. For orders below ₹500, an additional shipping charge of ₹70 is added to the convenience fee, totaling ₹99.
Myntra: Fashionable Express Myntra aligns with the urgency of fashion delivery, aiming to dispatch orders within 1 to 7 business days, depending on the customer's and seller's locations. Myntra has a structured pricing model for shipping. Orders under ₹1199 incur a shipping charge of Rs 149. Regardless of order value, there is a convenience fee of Rs 10. Additionally, Myntra has a platform handling fee ranging from Rs 49 to Rs 149, depending on the order value. Registered users placing orders worth less than Rs 1,000 are subject to a fee of Rs 99. Customers with a high rate of returns may face a high return fee ranging from Rs 199 to Rs 299.
Comparing Shipping Times and Costs: In comparing Nykaa and Myntra, both platforms aim to deliver products promptly. Nykaa's free shipping threshold of ₹299 and Myntra's shipping charge of Rs 149 for orders under ₹1199 provide clarity on costs. While Nykaa includes a convenience fee, Myntra incorporates various fees based on order value and customer behavior.
Check out the Guide Understand How To Return Product On Myntra!


8. Nykaa vs Myntra Mobile App Experience:
Nykaa: Beauty in a Tap The Nykaa Beauty Shopping App is highly rated, with 4.6 out of 5 stars from 1.19 million reviews and over 50 million downloads on the Google Play Store. People love using it! Nykaa's app is easy to use and looks good. You can find all your favorite beauty products easily, and many people trust it because of their high ratings. The app makes it simple for beauty lovers to explore and buy their favorite products.
Myntra: Fashion in Your Hand Myntra's Fashion Shopping App is also popular, with a good rating of 4.4 out of 5 stars from 4.28 million reviews and over 100 million downloads on the Google Play Store. Lots of people enjoy using it! Myntra's app is made for people who love fashion. It's easy to look through different clothes, shoes, and accessories. The app has cool features like personalized suggestions and updates about sales. This makes shopping for fashion fun and easy.
Unique Features and Easy to Use: Both Nykaa and Myntra care about making their apps easy for users. Nykaa's app is simple and gets a high rating, showing that people like using it for beauty shopping. Myntra's app is also easy to use and has special features like personal suggestions, making it great for fashion lovers. Both apps want users to have a good time exploring and shopping on their mobile phones.
9. Nykaa vs Myntra Which Is Better Company?

Here are some more insights that will help you understand more specifically about these both brads,
| | | |
| --- | --- | --- |
| Company | Nykaa | Myntra |
| Year Founded | 2012 | 2007 |
| Headquarter | India, Mumbai | India, Singasandra |
| Annual Revenue | $5M - $10M | $500M - $1B |
| Country Rank | 293th in Beauty & Cosmetics | 26th in Fashion & Apparel |
| Category Rank | 1st in Beauty & Cosmetics | 1st in Fashion & Apparel |
| Total Visits | 12.5M | 103.7M |
From Similarweb


Conclusion: Wrapping Up the Beauty and Fashion Story
In the vast world of online shopping, Nykaa and Myntra shine as unique destinations for beauty and fashion enthusiasts. Let's break down what makes each platform special.
Nykaa: Your Beauty Retreat Nykaa is like a haven for beauty lovers. It offers a wide range of beauty products, from makeup to skincare. Nykaa is committed to providing genuine and quality products. The app is user-friendly, and they aim to deliver your beauty picks quickly. If you enjoy exploring the world of beauty, Nykaa is a reliable companion.
Myntra: Your Stylish Playground Myntra, on the other hand, is a playground for those who adore fashion. It features a diverse collection of clothes, shoes, and accessories. Myntra focuses on delivering authentic and trendy items. The app is engaging, offering an easy way to discover different styles. With various payment options, Myntra ensures your fashion journey is both enjoyable and straightforward. If you're passionate about fashion, Myntra is the place to be.
Despite their differences, Nykaa and Myntra share common values of prioritizing customer satisfaction and embracing innovation. Both platforms emphasize good customer service, transparent shipping policies, and strive to enhance the overall shopping experience with exclusive perks like discounts and unique features.
The Final Decision:
Choosing between Nykaa and Myntra boils down to what you prefer. If beauty is your world, Nykaa has your back. If you're all about fashion, Myntra is your go-to. Both platforms are essential, catering to diverse tastes and desires in the ever-changing landscape of beauty and fashion.
You might also like to compare Myntra with Amazon.