AJIO vs Myntra which is the better brand for online shopping?
I think this is the question that every fashion enthusiast has asked the most.
Are you thinking of the same question: Is Ajio Better Than Myntra? Then let me clear up your doubts right away. It is up to you alone.
Yes, you read that right. There are a lot of factors that affect how you choose the best brand when shopping for your favorites online, such as your personal tastes, the needs of the product, your past shopping experiences, and more.
I know it's not easy to pick just one brand as I said it depends on you, right?
So, here we listed some of the factors, parameters, and numbers that can help you make an informed decision while shopping for yourself or your loved ones online.
Let us help you choose your trusted shopping partner,
Is AJIO and Myntra Same?
Nope, they're like fashion cousins, not twins. AJIO and Myntra both bring style to your doorstep, but they have their own vibes. It's like comparing two cool friends – similar, but with their own unique quirks.
How is AJIO Different from Myntra?
Alright, let's break it down. AJIO is that friend who always has the inside scoop on unique finds. It's like stumbling upon a hidden treasure – a bit unexpected and totally cool. AJIO celebrates diversity in fashion, making sure you stand out.
On the other hand, Myntra is the seasoned buddy who's been in the style game for a while. It's your reliable go-to for a vast variety of styles, from the latest trends to timeless classics. Myntra brings the best of both worlds, offering curated collections and high-profile collaborations.
So, while AJIO and Myntra both want you to rock your style, they do it in their own awesome ways. They're like different flavors in the same fashion ice cream shop – each with its own unique taste.
Now that you know these both brands are different and unique in their own ways, let's take an overview of both brands.
Myntra:
Established in 2007, Myntra has evolved into a powerhouse in the Indian online fashion realm. Specializing in a diverse array of products, including clothing, footwear, accessories, and beauty items, Myntra has become synonymous with staying ahead of the fashion curve.
Myntra collaborates with both local and international brands, and brings exclusive celebrity collections to the latest fashion trends, making Myntra a leader, not just in India but globally.
With a commitment to innovation and user experience, Myntra remains the go-to destination for those seeking the perfect blend of style and convenience.
AJIO:
Launched in 2016 under Reliance Retail, Ajio has swiftly carved out its niche in the online fashion market. Focused on diversity and exclusivity, Ajio offers a broad spectrum of styles and handpicked collections, ensuring that every fashion enthusiast finds something unique.
Despite being a relative newcomer, Ajio's commitment to providing exclusive fashion choices has garnered attention. As part of the Reliance Retail family, Ajio brings not just style but also reliability to your fingertips.
AJIO is a reputable brand known for its diverse and unique fashion offerings. With a focus on curated collections, exclusive designs, and affordable price range AJIO has gained popularity among fashion lovers.
So, if you are wondering if Is AJIO Good brand for shopping online, the answer is a big YES.
Just an overview of brands is not satisfactory information that can help you choose your perfect online shopping destination. Here we compare Ajio and Myntra based on some factors that will help you make an informed decision in your quest of whether Is Ajio Better Than Myntra!
Let's get started,


I. Myntra vs AJIO: Comparing Brands
1. Detailed Brand Comparison: So, when it comes to brands, Myntra is like this huge mall with a bit of everything. It's got tons of brands, catering to everyone's taste. From the big names to local gems, Myntra is a fashion paradise.
Now, Ajio is your boutique with a curated selection. It might not have as many brands as Myntra, but it sure brings you some unique and exclusive picks. It's like choosing between a big mall and a stylish boutique – both have their perks.
2. Exclusive Brand Partnerships: Let's talk exclusivity. Myntra is known for teaming up with top-notch designers and celebrities. You can explore Myntra's Studio section to shop the trendiest picks from your favorite influencers. It's like having the hottest trends delivered to your doorstep.
Ajio, being the trend explorer, focuses on exclusive designs and collaborations. It's your spot for finding something not everyone has. In the world of exclusive partnerships, Myntra brings the glitz, and Ajio brings the hidden gems.
3. Brands Count: Now, numbers talk. Myntra, being the big player, sells over 5,000 brands including about 1,50,000 products of over 1000 brands. It's like a brand buffet, offering something for every style appetite.
Ajio has over 2,000 labels and brands and a listing of over 5 lakh options. It's like a curated art collection, each brand is chosen with care. It's about quality over quantity.
4. Best Brands: Alright, the ultimate question – which brand takes the crown? If you are thinking about which brand is best in Ajio? The spotlight often shines on exclusive brands like Ritu Kumar, Biba, Teamspirit, Puma, Global Desi, and Holster. It's all about celebrating uniqueness.
On Myntra's turf, brands like Roadster, Nike, Adidas, and HRX by Hrithik Roshan steal the show. They bring the perfect blend of style and comfort. So, it's not about one being better; it's about what style of adventure you're ready for.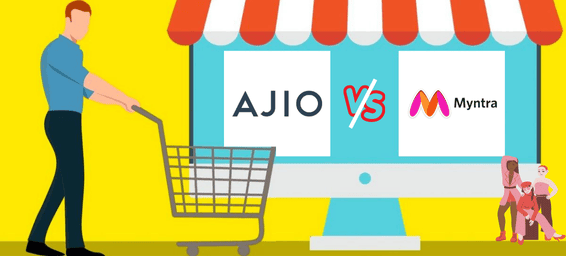 II. AJIO vs Myntra: Comparing Categories
Now let's talk about the categories available on Myntra and AJIO.
At Myntra, it's like this massive treasure chest of styles for everyone. Whether you're a trend chaser or a fan of timeless classics, Myntra's got your back. When you dive into the Myntra fashion wear section you'll find everything from the latest styles to evergreen favorites, all from popular and cool new brands.
Myntra's footwear section has shoes for every occasion, from big-name labels to those hidden gems you'll love. And when it comes to ethnic wear, you'll find everything from traditional classics to the newest ethnic trends.
Accessories? Oh boy, Myntra's got you covered. It's like this accessory paradise with everything from timeless pieces to the latest trends. Moreover, here you can also shop for Kids, Home, and Beauty Essentials at the best price range.
Now let me spill the beans about AJIO – it's all about unique styles that stand out. Sure, it might not be as big as some others, but that's the charm.
Fashion wear at Ajio isn't about overwhelming choices. It's about a curated selection of brands that make you stand out in the crowd. Step into the footwear section, and you're in for a treat – quality over quantity. Each pair is like a statement piece, carefully picked to make you feel special.
Ethnic wear at Ajio? Picture this: a blend of tradition and the latest trends. It's like your wardrobe telling a story. Accessories? Yep, they're more selective, but each piece adds that unique touch you've been searching for.
Explore Ajio Indie for homegrown Indian brands. Here you can also shop for Indian Regional Specialities.
III. Ajio vs Myntra Quality Of Products:
When it comes to Ajio and Myntra quality comparison, it's like comparing apples and oranges, but both are delicious in their own way.
Picture Myntra as this giant playground with various brands. The quality here is like a mixed bag – you've got the good old reliable stuff and some sparkling gems. With renowned brands and emerging designers in the mix, Myntra ensures a certain level of quality across its vast collection.
Now, Ajio takes a different route. It's more like a boutique, focusing on unique finds and exclusive designs. The quality here is about standing out. Ajio brings brands that might not be on everyone's radar, but they're chosen for their distinctiveness.
So, the answer to your quest which brand is better in quality, it's hard to compare each product and come up with a single choice. The best way to check the quality of online products is through the Reviews that are already available on the site.
IV. AJIO or Myntra: Ordering Process and User Experience
Let's get real about shopping on Ajio and Myntra – the good, the bad, and the essential details.
1. User Interface: Myntra's user interface is like a well-lit store with clear signage – easy to navigate. Ajio, with its boutique-style interface, is more curated, which means a cleaner look but fewer choices upfront. Myntra excels in variety and Ajio in intentional curation.
2. Ordering Process: Myntra keeps it simple – pick, add to cart, checkout. Ajio, being more selective, takes a bit more time in the ordering process. Myntra is your express checkout, Ajio a more deliberate journey. Fast and straightforward vs. thoughtful and intentional.
3. Payment Methods: Both platforms cover the payment basics – cards, wallets, etc. Myntra offers a broader range of options, while Ajio focuses on the essentials. Security-wise, both are on par.
4. Coupons Availability: Myntra bombards you with coupons – it's a discount carnival. Ajio, with its curated approach, is more like finding a hidden gem. You can use AJIO Coupons and Myntra Coupon Codes to get more discounts on your purchases.
You can check out the Popular Myntra Coupon Code Hacks and AJIO Coupon Code Hacks to maximize your savings.
5. Delivery Time: Myntra promises speedy delivery, while Ajio, being more selective, takes a bit more time. Myntra delivers orders within 1 to 7 business days. Ajio dispatches your shipment in 24 hours and delivers it to you within 3 to 6 days.
6. Return and Refund Policies: Myntra's return and refund process are efficient. Ajio, with its unique approach, ensures a straightforward return.
Myntra has a 7 to 30 days return policy (you can return product if you have any issues within these days) depending on the product. The reflection of money in your account after the refund has been initiated depends on your payment method. If you have paid with Myntra Credit or PhonePe Wallet your money will be instantly refunded into your bank account after the pickup. And if you paid using Cards or UPIs your refund will be created within 7 to 10 days.
Now about AJIO, you can apply for a return between 7 to 15 days after the delivery date. And AJIO will initiate your refund within 2 business days.
7. Mobile App Experience: Myntra's app is like a reliable GPS – well-rated and ensuring a smooth journey. Ajio's app caters to those who prefer a unique, curated mobile shopping experience.
Both AJIO and Myntra have 100M+ Downloads. And the Reviews for Myntra are 4.4 stars out of 5 million, and the Reviews for AJIO are 4.4 stars out of 4.37 million. -From Google Play.
V. Myntra vs Ajio: Customer Service and Support
Now let's take a deeper look into the customer service and support realms of Ajio and Myntra,
1. Responsiveness: Myntra, as a retail behemoth, is quick on its feet when it comes to responding to customer queries. Ajio, with its more selective approach, mirrors this efficiency, ensuring that customer concerns are met with prompt responses. Both platforms demonstrate a commitment to addressing user issues promptly, emphasizing a customer-centric approach.
2. Support Channels: Myntra's customer service is like a comprehensive buffet, offering a helpline, chat support, and email options. Ajio, while not as extensive, covers all essential bases, ensuring that users can reach out through multiple channels. Myntra's extensive menu might be appealing to those who prefer various options, whereas Ajio streamlines the process for a more focused interaction.
Digging deeper, Myntra's helpline provides a direct, real-time conversation option, ideal for urgent concerns. Their chat support offers instant messaging convenience, and the email channel caters to those who prefer written communication.
Ajio, in its simplicity, ensures that each support channel is effective, offering a more focused approach to user interaction.
3. Customer Loyalty Programs: Myntra's loyalty program stands out as a VIP experience, offering exclusive discounts, early access to sales, and personalized perks. It's a gold standard for those who value extensive loyalty offerings. Ajio, while not as elaborate, acknowledges user loyalty with its own set of perks, providing a more tailored recognition of commitment.
Myntra's VIP program is a comprehensive loyalty journey, ensuring that committed users enjoy a range of privileges. Ajio, with a more modest loyalty program, focuses on recognizing and rewarding user loyalty straightforwardly.
Myntra has 2.53 Star Review from 78,831 Votes and Ajio has 2.28 Star Review from 28,726 Votes.
Here are the numbers that can help you understand customer services and user reviews of both platforms more effectively.
From Mouthshut Reviews
VI. Myntra vs Ajio: Security and Trustworthiness
When it comes to online shopping, security and trust are non-negotiable. Let's dissect the security measures and customer protection policies of Myntra and Ajio.
1. Transaction Security: Myntra, employs robust security measures for transactions. From encrypted payment gateways to secure connections, Myntra prioritizes the safety of your financial information. Ajio, with its more selective approach, ensures similar transaction security. Both platforms implement industry-standard protocols to safeguard your transactions, instilling confidence in users that their financial data is in safe hands.
Beyond encryption, Myntra and Ajio regularly update their security protocols to stay ahead of potential threats. This commitment to staying current with security trends enhances the overall transactional safety on both platforms.
2. Customer Protection: Myntra's customer protection policies are comprehensive, covering aspects like product quality, timely delivery, and easy returns. Myntra's reputation as a customer-centric platform is built on these protective measures. Ajio, though not as extensive, ensures that customer protection is a priority. Both platforms provide clear policies, fostering trust by offering solutions for potential issues that may arise during the shopping journey.
In addition to standard protection policies, both Myntra and Ajio have dedicated customer support teams to address concerns promptly. The accessibility of customer support contributes to the overall sense of protection and trust on both platforms.
VII. Ajio vs Myntra Exploring Unique Aspects:
Here are some more factors that can help you choose your perfect shopping partner.
1. Unique Selling Points (USPs):
Let's talk about what makes Myntra and AJIO stand out. Myntra is like a fashion encyclopedia, offering a vast range of styles and brands. It's known for its curated collections and celebrity collaborations, making your wardrobe a trendsetter.
On the other side, AJIO is your style adventurer, celebrating diversity and exclusivity. It brings unique finds and handpicked collections, giving your style a one-of-a-kind touch. When it comes to unique selling points, it's like Myntra is your trend guide, and AJIO is your personal fashion explorer.
2. Target Audience and Budget:
Now, let's talk about who these platforms have in mind. Myntra is like the fashion universe for everyone. It caters to a broad audience, from trend chasers to budget-conscious shoppers. With a vast range, it's your style hub no matter your taste or wallet size.
AJIO, on the other hand, is like your stylish friend who loves unique finds. It targets those who appreciate diversity in fashion and are willing to explore. Budget-wise, both platforms offer options for every pocket.
3. Unique Features:
Let's talk about the special things each platform brings to the table. Myntra, being the veteran, has some tech magic up its sleeve. It uses augmented reality for virtual try-ons, making your online shopping experience more interactive.
AJIO, with its flair for uniqueness, focuses on personalized collections and exclusive designs. It's like having your own curated fashion space. When it comes to unique features, Myntra adds tech charm, while AJIO adds a touch of personal curation.
VIII. Ajio Vs Myntra: Which One Is Leading the Shopping Race?
Here are some more factors that'll help you out while choosing between Ajio and Myntra,
| | | |
| --- | --- | --- |
| Parameter | Ajio | Myntra |
| Market Share | As of May 2023, a Reliance Retail venture had a 15% piece of the market. As of now, Ajio is ready to add H&M goods to their site. | Myntra has a 60% market share that Includes international brands like Nasty Gal, Boohoo, etc. |
| Website Traffic | 27.15% of the total fashion e-commerce market as of September 2023. | Myntra with a traffic share of 72.85% as of September 2023. |
| No. of Visits to Website | 29.8 million Monthly Visits | 69.7 million Monthly Visits |
| Global Rank in Fashion & Lifestyle Category | 1,411th Position | 454th Position |
| Country Rank Fashion & Lifestyle Category | 106th Position | 36th Position |
From Similarweb
As of September 2023, it was seen that more people visited Myntra's website than Ajio's. Over 69.7 million people have visited Myntra, and over 29.8 million people have visited Ajio in September 2023.
Around the world, Myntra is ranked at 454, and Ajio is ranked at 1,411. Myntra was named number one in the lifestyle category for fashion and clothing.
From the above analysis and data, it's clear that Myntra has been ahead of the competition since 2023.
FAQ:
Choosing between Ajio and Myntra depends on individual preferences and specific needs. Let's explore some key aspects to help you make informed decisions:
1. Which is the best shopping site, AJIO or Myntra?
Both Ajio and Myntra are popular and reputable online shopping platforms, offering a wide range of products. The choice between them depends on you, like what kind of products you wanna buy.
2. Which app is right for online shopping, Myntra, or AJIO?
As per our experience, both Myntra and Ajio have user-friendly mobile apps for online shopping.
3. Which e-commerce has more authentic products, Myntra or Ajio?
Both Myntra and Ajio are known for offering authentic products. They collaborate with numerous brands, ensuring that the products sold on their platforms are genuine and reliable.
4. Ajio vs. Myntra, which is cheaper?
The pricing on Ajio and Myntra can vary based on the specific products, brands, and ongoing promotions. It's advisable to compare prices for the products you're interested in at the time of purchase.
5. Which site is better to buy heels online, Myntra, or Ajio?
Myntra and Ajio offer a diverse range of heels from various brands. The better choice depends on your specific style preferences, brand choices, and the availability of the type of heels you're looking for.
6. Which one is the best site to buy clothes, Myntra, or Ajio?
Both Myntra and Ajio are excellent choices for buying clothes online. They provide a vast selection of clothing items, catering to different styles, preferences, and budgets.
7. What products are a must-buy during Myntra & Ajio sale?
During sales on Myntra and Ajio, you can find exciting discounts on a wide range of products, including clothing, footwear, accessories, and more. It's a great time to grab deals on your favorite brands and update your wardrobe.
8. Are Myntra products authentic and reliable?
Yes, Myntra ensures the authenticity and reliability of its products.
9. Does AJIO sell original brand products?
Yes, Ajio sells original brand products. AJIO partners with various brands to provide customers with a selection of authentic and original products.