Ultimate Beginner's Guide to Online Coupons
Navigating the World of Online Coupons: Tips and Strategies for Beginners
Author : Shilpa
|
Updated On: 16 May 2023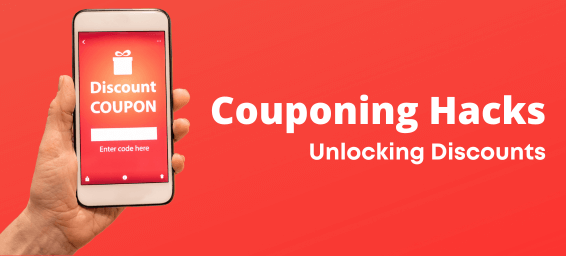 Online coupons are a savvy shopper's secret weapon. They are an absolute game-changer when it comes to saving money. Whether you're buying groceries, clothing, electronics, or booking hotels and flights, the coupons can significantly cut costs and save you money.
If you're new to the world of online coupons, you may be unsure where to start. But fear not! This amazing guide is designed to help beginners navigate and make the most out of online coupons.
First of all, let's understand what are online coupons and how you can find them.
What are Online Coupons?
Online coupons are basically digital versions of traditional paper coupons. Now instead of clipping paper coupons from a newspaper, you can find them online in the form of coupon codes.
These coupons are available for a wide range of products and services, from food delivery to fashion to travel. You can use these coupons at the checkout of your purchase to get discounts or special offers.
The only thing you need to do is find the valid coupons and apply them at the checkout.
Finding Online Coupons-
1. Official Websites:
Many companies offer exclusive coupons directly on their official websites. Thus, it's always a good idea to check the official website of the brand you're interested in to see if they have any current promotions or coupon codes.
If you are planning to shop for a specific brand, then you should keep an eye on their websites for ongoing sales and promotion codes.
2. Coupon Websites:
Apart from the official websites of the brands, the most reliable method to get assured coupon codes is the coupon websites. There are numerous websites dedicated to finding and sharing coupon codes, such as CouponMoto.com.
This site gathers and organizes coupons from all your favorite retailers. Also, the deals and coupons are regularly updated, so you won't have to worry about encountering expired coupons.
This makes it easy for shoppers to find the best discounts.
3. Subscription Newsletters:
Many online retailers offer discounts to subscribers of their email newsletters.
Signing up is usually free, and it's a good way to stay informed about sales and special promotions. You'll get exclusive discounts and deals delivered straight to your email inbox.
This way, you will never miss out on a good deal!
4. Social Media:
Another great way to find freebies is to follow brands on social media. Many companies share special deals and promo codes on their Facebook, Twitter, or Instagram pages.
So make sure to keep an eye on their social media posts.
5. Cash Back and Reward Programs:
Many websites offer amazing reward programs, cash back, or points for purchases made through their portals. Additionally, they often provide additional coupon codes and extra savings.
How to Use Online Coupons-
Using online coupons is typically easy and straightforward. During the checkout process, there will usually be a box where you can enter a promo or coupon code.
Once you've entered the code, the discount will be applied to your total.
Make sure to check that the discount has been applied before completing your purchase.
But to ensure big discounts, you need to find legitimate working coupons from a trusted couponing site.
So if you are serious about savings, visit CouponMoto.com website and get all the working coupons for various stores in India.
Search for the store page here and from the rundown of coupons, select a suitable coupon code.
Apply this coupon code in the designated box during checkout, and that's it! Your coupon code will get applied, giving you instant price reductions.
Tips for Using Online Coupons-
1. Read the Fine Print:
Make sure to read the terms and conditions of the coupon.
Some coupons may have specific requirements, such as a minimum purchase amount, or they may only be valid for certain products. So choose the one that suits your purchase.
2. Compare Prices:
Just because you have a coupon doesn't necessarily mean you're getting the best deal every time. Be sure to compare prices with other retailers before making a purchase.
3. Expiration Dates:
Most coupons have expiration dates. You definitely don't want to miss out on those amazing deals. So be sure to use them before they expire.
4. Stacking Coupons:
Some retailers allow you to use more than one coupon at a time. This method, called "stacking," can save you a significant amount of money.
5. Avoid Impulse Buys:
Making a spontaneous purchase can be tempting, but it's important to resist the urge and stick to your budget.
Just because you have a coupon doesn't mean you should use it. Make sure it's something you were planning on buying anyway to avoid spending unnecessary money.
6. Stay Organized:
It's super important to keep track of all the amazing coupons you have and when they expire. Consider using a spreadsheet or a coupon app to help you keep track of your coupons.
By understanding how to find and use online coupons, you can maximize your savings and make your shopping budget go much further. So start exploring today!
Common Coupon FAQs-
What is Coupon Code?
A coupon code is a combination of numbers and letters that you enter at checkout on an online store to receive a discount or special offer. They're also referred to as promotional codes or discount codes.
Is Coupon Worth?
Yes, coupons can significantly reduce the cost of purchases. However, it's essential to use them wisely to ensure they provide real value and don't encourage unnecessary spending.
Why do people use coupons?
People use coupons to save money on goods and services. They allow for discounts on regular prices, which can make a significant difference over time, especially for regular purchases or larger items.
How do I use a coupon?
When checking out online, there will be a designated area to enter the coupon or promo code. After entering the code, the discount should be applied to your order total.
Can I use a coupon more than once?
This depends on the terms and conditions of the specific coupon. Some coupons are single-use, while others can be used multiple times.
Can I combine multiple coupons?
Some retailers allow coupon stacking, or using multiple coupons in a single transaction. However, it's always best to check the retailer's coupon policy.
Are there any restrictions on using coupons?
Yes, most coupons have restrictions. They may only apply to certain items, require a minimum purchase amount, or be valid during a specific time period.
Is it safe to use coupon codes?
Yes, it's safe to use coupon codes from reputable sources. However, be wary of websites or emails that ask for personal information in exchange for a coupon code.
How do I know if a coupon is valid?
The best way to know if a coupon is valid is by trying to apply it during checkout. If the discount is applied, the coupon is valid.
Can I use a coupon online?
Yes, online coupons or promo codes can be used on online shopping websites at checkout.
How much money can I save with a coupon?
The amount of money you can save with a coupon depends on the coupon's value. Some offer a percentage off your total purchase, while others provide a specific amount off.
Do I have to buy a specific item to use a coupon?
This depends on the terms of the coupon. Some coupons are product-specific, while others may apply to any purchase from the retailer.
Where can I find coupons?
Coupons can be found on coupon websites, through retailer newsletters, on social media, and on official brand websites.
Do coupons expire?
Yes, most coupons have expiration dates, after which they cannot be used.
What do I do if a coupon doesn't work?
First, check the coupon's terms and conditions to ensure your purchase qualifies. If it should work and doesn't, contact the retailer's customer service.
Can I use a store coupon at any store location?
This depends on the terms of the coupon. Some are valid at any store location, while others may be specific to a certain location or only valid online.
How often are new coupons released?
This varies by retailer. Some release new coupons regularly, while others do so around holidays or special events.
How can I stay up to date on the latest coupons and deals?
Subscribing to retailer newsletters, following brands on social media, and regularly checking coupon websites can help you stay informed about the latest deals.
Can I use a coupon on a sale item?
This depends on the retailer's policy. Some allow coupons to be used on sale items, while others do not.
Can I use a coupon on a clearance item?
This also depends on the retailer's policy. It's always best to check the terms of the coupon and the sale offer.