Amazon vs Flipkart Comparison: Are you stuck in the classic dilemma of choosing between Amazon and Flipkart? Well, you've just stumbled upon your superhero guide to unravel the mysteries of these e-commerce giants!
Whether you're looking for the best deal or trying to figure out where to sell your cool stuff, these platforms are the perfect destination for you. But you are looking for the best right? In this article, we'll go through all the essential information you need to know about each platform to select your perfect shopping partner. So, let's get started.
About Amazon:
Amazon started way back in 1994 just selling books online. Now, it's like a huge online mall where you can find everything. Need a new book, gadgets, or some cool fashion? Amazon's got you covered. It's all about making you happy while you shop. The website is easy to use, and still your go-to place for hassle-free shopping.
About Flipkart:
Flipkart is your one-stop shop for awesome online shopping! It kicked off in 2007 in Bengaluru, India, starting with selling books online. Now, it's this amazing place where you can find anything you want. Whether it's the latest fashion trends, cool electronics, or stuff for your home, Flipkart has it all. Walmart, a big company, joined in to make Flipkart even better. So, if you're in India and want easy, reliable online shopping, Flipkart is the place to be.
1. Amazon vs Flipkart Product Comparison
Amazon is like a virtual wonderland with a staggering variety of products. From electronics to fashion, books to home essentials, Amazon has it all. Need a new phone, laptop, or the latest bestseller? Amazon's got you covered. What's impressive is the extensive range of exclusive products and categories available. Explore Amazon's "Amazon Basics" for reliable everyday items, or dive into "Amazon Fashion" for the latest trends. Here you can also shop for Health essentials, Household, Personal Care Products, Groceries, and Gourmet Foods at a discounted price range. With a vast marketplace, Amazon offers an unparalleled selection, ensuring you find exactly what you're looking for.
Flipkart is your go-to destination for a diverse and vibrant shopping experience. Catering to the varied tastes of its audience, Flipkart boasts an impressive range of products. Whether you're into the latest fashion, want to upgrade your gadgets, or are on the hunt for unique home decor, Flipkart has something for everyone. Flipkart's exclusives, like the "Flipkart SmartBuy" range, provide quality at affordable prices. Additionally, you can shop with "Flipkart Flight" for easy and affordable flight bookings and "Flipkart Health Plus" for superfast delivery of a wide range of medicines.
2. Amazon vs Flipkart: Brand Availability
Amazon is a brand powerhouse, offering a vast array of brands from around the world. It includes over 400 private-label brands for 243,000 products, and close to 2 million different brands. Whether you're looking for well-known international names like Hamilton Beach, or trusted local favorites, Amazon has an extensive list of brands across all categories. You can easily find products from tech giants like Apple, Samsung, or fashion labels such as Nike and Levi's. Amazon's platform also welcomes smaller, unique brands through programs like Amazon Launchpad, providing a diverse and inclusive shopping experience.
Flipkart, too, has a rich assortment of brands, catering to the preferences of its diverse audience. It features a mix of global brands and local Indian favorites, creating a unique shopping environment. Flipkart is home to popular brands like Mi, Puma, and Titan, offering a range of products from electronics to fashion.
Additionally, Flipkart's focus on promoting indigenous brands and its collaborations with local manufacturers contribute to a dynamic marketplace where you can discover both global trends and homegrown innovations. The Flipkart Group is one of the biggest online stores in India. It includes companies like Flipkart, Myntra, Flipkart Wholesale, Flipkart Health+, and Cleartrip.
3. Amazon vs Flipkart Product Quality:
Amazon employs measures such as customer reviews, ratings, and the "Amazon's Choice" label to guide users toward products with positive feedback. While the vast selection provides options for different preferences and budgets, customers are encouraged to review product details and seller ratings to make informed purchasing decisions.
Flipkart implements the "Flipkart Assured" program, assuring customers of quality, speed, and free shipping on select products. Additionally, customer reviews and ratings play a crucial role in guiding users toward products that have received positive feedback.
If you want to check the quality of a specific product you can check out the reviews of that specific product to learn more about its features and drawbacks.
4. Amazon vs Flipkart Price Comparison and Discounts:
Amazon is known for its dynamic pricing strategy, adapting to market trends and providing competitive prices. Amazon regularly offers discounts across various categories, ensuring there's always something for everyone. The introduction of Amazon's "Deal of the Day" and "Lightning Deals" adds an element of excitement, offering limited-time discounts on popular items. Also, you can subscribe to Amazon Prime to enjoy exclusive access to special discounts and early access to certain sales events.
Flipkart, too, employs a strategic pricing approach, aiming to provide value for money. They often collaborate with sellers to offer attractive prices, especially during festive seasons and special events. Flipkart's "Big Billion Days" and "Festive Dhamaka Days" are examples of major sales events where you can enjoy significant discounts on a wide range of products. Flipkart Plus members can enjoy additional benefits like free delivery, early sale access, and further enhancement of the shopping experience.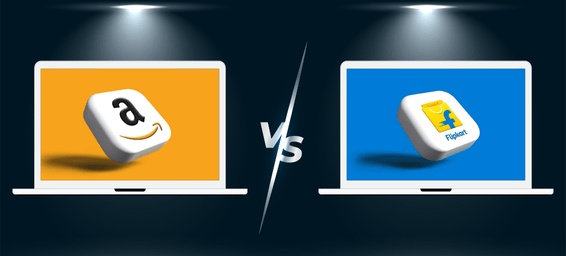 5. Amazon vs Flipkart Coupons: Unlocking Year-Round Savings
The festive season often brings joyous celebrations and exciting sale offers on platforms like Amazon and Flipkart. However, what if you could extend the savings beyond festive periods? The solution lies in the world of coupons—a versatile tool that empowers you to save on your purchases whenever you want.
Amazon's diverse range of coupons covers an extensive array of categories, from electronics to fashion and more. Exclusive Amazon coupons provide additional benefits, making the shopping experience even more rewarding. Whether you're a Prime member or exploring as a guest, the simple redemption process allows you to enjoy instant savings during checkout.
Flipkart's coupons span diverse categories, ensuring savings on a wide range of products. During special events or seasons, Flipkart promotes unique coupon codes, providing users with extra discounts. For Flipkart Plus members, exclusive coupon codes add an extra layer of savings to their membership perks. The seamless redemption process on Flipkart makes applying coupons straightforward. Enter the code during checkout, and witness immediate reductions in your total amount due.
To make the most of coupon benefits on both Amazon and Flipkart, you can adopt a few strategies. Regularly checking for new coupon offerings ensures staying updated on the latest savings opportunities. To maximize savings, consider combining coupons with ongoing sales and promotions on both platforms. Keeping an eye on special events or promotions where exclusive coupon codes may be released adds an extra layer of savings. Whether you're shopping for electronics, fashion, or other essentials, unlocking the benefits of coupons enhances your overall shopping experience on these leading e-commerce platforms.
6. Flipkart vs Amazon Payment Methods:
Amazon ensures a seamless shopping experience by providing a variety of payment methods to cater to diverse user preferences. Customers on Amazon can choose from traditional payment methods like credit and debit cards, net banking, and cash on delivery (COD). Additionally, Amazon has embraced digital wallets and UPI (Unified Payments Interface), offering convenience for users who prefer these modern payment solutions. The inclusion of Amazon Pay, the platform's digital wallet, further streamlines transactions, allowing users to store funds and enjoy quick, one-click payments.
Flipkart, too, offers a versatile range of payment options, ensuring flexibility for users. Traditional payment methods such as credit and debit cards, net banking, and cash on delivery are available on Flipkart. The platform has embraced digital wallets and UPI as well, staying in tune with modern payment trends. Flipkart's digital wallet, PhonePe, integrates seamlessly with the platform, providing users with an additional payment option. The availability of Buy Now, Pay Later options and no-cost EMI (Equated Monthly Installment) plans adds another layer of flexibility to payment methods on Flipkart.
7. Flipkart vs Amazon Delivery Services:
Amazon has set industry standards when it comes to fast and reliable delivery services. The standard delivery time on Amazon is 5 to 8 days. It also offers various delivery options, including, one-day, two-day, and even same-day delivery for select items. Amazon Prime members, in particular, benefit from expedited delivery services, often receiving their orders within 24 to 48 hours. Amazon ensures that you receive your purchases on time.
Flipkart is committed to providing prompt delivery services to its customers. Similar to Amazon, Flipkart offers a range of delivery options, including standard and express delivery. Flipkart Plus members enjoy expedited delivery services, contributing to shorter delivery times. The standard delivery time of Flipart is 2 to 7 days depending on your location.
8. Flipkart vs Amazon Return and Refund Policy:
If something's not right with what you ordered on Amazon, don't worry! If you get a damaged, defective, or different/wrong item, Amazon will replace it for free within 7 days of getting it. And if, for any reason, you want to return something within 30 days of getting it, Amazon will give you a full refund. They're quick about it too, aiming to process your refund within 5 working days. Plus, if you choose, you can get your refund in Amazon Pay Balance, which might only take up to 4 hours, giving you a quick way to use it for your next purchase.
Flipkart makes sure you're happy with what you buy through their simple Return and Refund Policy. If something is wrong, like the item is damaged or not what you ordered, you can ask for a replacement for free within 10 days of getting it. And if you need a refund for any reason, Flipkart tries to make it quick, aiming to get it done in 5-7 working days once they get back what you returned. This straightforward policy shows that Flipkart cares about making your shopping experience smooth and trustworthy.
9. Amazon vs Flipkart Gift Options:
Amazon excels in providing a variety of thoughtful gift options to make every occasion special. The platform offers an extensive selection of gift cards, allowing you to choose from a wide range of denominations and themes, ensuring a personalized touch. Amazon's gift cards can be redeemed for a vast array of products, giving you the freedom to pick exactly what you want. Additionally, Amazon facilitates personalized gifting experiences through features like gift wrapping and customized messages, allowing you to add an extra layer of sentiment to the presents.
Flipkart, too, understands the art of gifting and provides a range of options to express your sentiments. The platform offers gift cards that cater to various preferences and occasions, allowing both the gift giver and receiver flexibility in choosing the perfect present. Flipkart's gift cards cover a spectrum of categories, ensuring that there's something for everyone. The platform also enhances the gift-giving experience with features like personalized messages and gift wrap options, making each gift feel unique and special. With Flipkart, you can effortlessly find and send a meaningful gift for birthdays, anniversaries, or any joyful moment.
10. Amazon vs Flipkart Credit Card Usage:
Amazon seamlessly integrates credit card usage into its platform, providing users with a convenient and secure payment option. You can link your credit cards to your Amazon accounts, for quick and efficient transactions during the checkout process. The platform supports a variety of credit cards, offering flexibility based on your preferences and banking relationships. You can unlock special promotions, cashback offers, and discounts using specific credit cards.
Similar to Amazon, Flipkart prioritizes user convenience by integrating credit card usage into its platform. You can easily link your credit cards to your Flipkart accounts, streamlining the payment process. Flipkart supports a range of credit cards, providing you with choices to suit your preferences and banking affiliations. Exclusive offers, cashback deals, and discounts may be extended to customers who choose to make payments using specific credit cards on the Flipkart platform.
11. Amazon vs Flipkart User Interface and Experience:
Amazon's user interface is a paragon of simplicity and efficiency, offering a clean and organized design for both its website and app. Navigating through the vast array of products is a breeze, thanks to an intuitive layout and a robust search function. The product pages are rich in information, providing detailed descriptions and customer reviews, empowering users to make well-informed decisions. Amazon's personalized touch shines through its recommendation algorithms, suggesting products tailored to individual preferences. Overall, Amazon's user-friendly design ensures a seamless and straightforward online shopping experience.
Flipkart's user interface stands out with its visually vibrant and engaging design, creating an immersive experience for users on both the website and app. The platform combines a visually appealing layout with powerful search functionality, making product discovery intuitive. The user-friendly navigation, coupled with features like 'Flipkart Assured' and 'Buy Now, Pay Later,' adds a layer of convenience and flexibility to the overall shopping experience. Flipkart's homepage showcases trending products, providing users with instant inspiration and contributing to an enjoyable and diverse shopping journey. With its emphasis on user-friendliness and visual appeal, Flipkart aims to make online shopping a delightful experience for users of all preferences.
12. Flipkart vs Amazon Mobile Apps:
Both Amazon and Flipkart have invested in creating mobile apps that cater to the diverse needs of modern shoppers. Amazon's app impresses with its efficiency, delivering a straightforward and user-friendly experience. Flipkart's app, on the other hand, stands out with its visually appealing design and innovative features. The choice between the two often comes down to personal preferences, whether you prioritize the streamlined efficiency of Amazon or the visually dynamic and engaging experience of Flipkart. Regardless of your choice, both mobile apps are geared to provide a seamless and enjoyable shopping experience, right at your fingertips.
Amazon App has 4.2 Stars from 3.56M Reviews and Flipkart App has 4.3 Stars from 48M Reviews on Google Play Store.
13. Amazon vs Flipkart Customer Service and User Reviews:
Amazon and Flipkart are both known for their renowned customer-centric approach, reflected in their responsive and efficient customer service. These platforms offer multiple channels for customer support, including live chat, email, and a helpline. Amazon and Flipkart address customer queries and concerns promptly, contributing to a positive overall experience.
Here are ratings from real users across the internet who used these platforms before,
| | | |
| --- | --- | --- |
| Factors | Amazon | Flipkart |
| Votes & Ratings | 3.49 Stars from 1,99,348 Votes | 3.04 Stars from 2,67,929 Votes |
| Customer Service | 4 out of 5 | 3 out of 5 |
| Product Quality | 4 out of 5 | 3 out of 5 |
| Delivery Timeliness | 4 out of 5 | 3 out of 5 |
| App & Websites | 4 out of 5 | 3 out of 5 |
| Reliability | 4 out of 5 | 3 out of 5 |
From Mouthshut Reviews


14. Amazon vs Flipkart Which Is Best For Seller:
Amazon stands as a global e-commerce giant, offering sellers a vast marketplace to showcase and sell their products. With a vast customer base and a presence in numerous countries, Amazon provides sellers with a massive reach. The Fulfillment by Amazon (FBA) program allows sellers to leverage Amazon's extensive logistics network for storage, packing, and shipping, streamlining the selling process. Amazon's seller dashboard provides detailed analytics and insights to help sellers optimize their strategies. While the competition can be intense, the platform's robust infrastructure, brand recognition, and expansive customer base make it an attractive choice for sellers looking to scale their businesses.
Flipkart, a major player in the Indian e-commerce scene, offers sellers a dedicated platform to reach a large audience. With a strong presence in India, Flipkart provides sellers with access to a diverse and growing market. The platform offers various selling models, including the Flipkart Assured program which assures product quality and delivery speed, enhancing customer trust. Flipkart also provides sellers with insights and analytics through its seller dashboard to help them make informed decisions. While it may not have the global reach of Amazon, Flipkart's focus on the Indian market, coupled with innovative selling programs, makes it an appealing platform for sellers targeting the Indian consumer base.
15. Flipkart vs Amazon Market Share:
Amazon's global reach positions it as a leader in terms of market share and revenue on a global scale. Its diversified services and expansive customer base contribute to substantial revenue figures. On the other hand, Flipkart's strength lies in its influence within the Indian market. Acquired by Walmart, Flipkart has received significant investments to fuel its growth and compete more vigorously in the Indian e-commerce sector.
16. Amazon vs Flipkart More Insights:
| | | |
| --- | --- | --- |
| Factors | Amazon | Flipkart |
| Total Visits | 379.7M | 279.3M |
| Traffic Share In India | 65.47% | 34.53% |
| Global Rank in E-commerce & Shopping Marketplace Category | #72 | #101 |
| Country Rank in E-commerce & Shopping Marketplace Category | #7 | #12 |
| Category Rank in E-commerce & Shopping Marketplace Category | #1 | #2 |
| Female Audience | 32.99% | 28.12% |
| Male Audience | 67.01% | 71.88% |


Conclusion:
In the end, the choice between Amazon and Flipkart comes down to your personal preferences. Amazon shines as a global giant with a big effect, while Flipkart strengthens its place in the Indian market with products that are made just for that market.
Either way, both platforms make it easy to shop and sell, whether you want to reach people all over the world or just a certain area. They create competition that is good for both buyers and sellers, making the e-commerce environment more dynamic and full of options and new ideas.
FAQs:
1. Is Amazon better than Flipkart?
Amazon is a global giant with a vast product range and international reach. Flipkart, on the other hand, focuses on the Indian market, tailoring its services to regional needs. If you're looking for a global platform with diverse offerings, Amazon might be your go-to. If you're primarily interested in the Indian market, Flipkart could be the preferred choice.
2. Amazon vs Flipkart credit card, which is better?
Both Amazon and Flipkart offer integration with credit cards, providing you with convenience and additional benefits. The decision between the two would depend on factors like specific credit card partnerships, exclusive offers, and rewards provided by each platform. You may need to compare the credit card benefits offered by Amazon and Flipkart to determine which aligns better with their preferences and needs.
3. Amazon vs Flipkart, which is best for the seller?
The suitability of sellers depends on their goals and target audience. Amazon is a global marketplace with a vast customer base, making it an excellent choice for those seeking international exposure. The Fulfillment by Amazon (FBA) program further facilitates logistics for sellers. Flipkart, while more regionally focused, offers a significant platform for sellers targeting the Indian market. The choice depends on the seller's target market, business objectives, and preferences.
4. Which one is better, Amazon or Flipkart?
The choice between Amazon and Flipkart depends on your specific needs. If you want a wide international reach and a variety of products, Amazon might be the better choice. On the other hand, if you're more focused on the Indian market and appreciate a platform with initiatives like Flipkart Assured, Flipkart could be the better fit.